Pentagonal Prism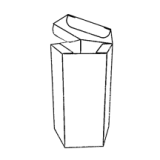 Users will easily remember this box because the pentagonal prism is a shape that stands out.
It is suitable for gifts, luxury goods, promotional or new products. We offer a wide range of recyclable papers to make these boxes and personalize them with offset printing, relief or gold foil printing. They are delivered to the customer folded to save space, which is why they have an additional folding line on one wall.
Possible extras:
Glossy or matte lamination

Spot UV varnish

Hot stamping (gold, silver or colored)

Relief printing (embossing)

Ribbed texture

Inside printing

Manufacture from [FSC] certified paper


At Extrapack, we are proud to manufacture our
paperboard boxes
entirely in-house at our factories in Bulgaria. This allows us to offer short delivery times to customers in Europe and provide a range of customization and personalization options. Utilizing only the most [modern equipment] and adhering to strict international [quality standards], we are committed to delivering high-quality products to our customers. Trust us to provide the best paperboard packaging solutions for your business needs.
If you are looking for ready to use products in stock, please see here: wholesale.bags.bg